The two most popular British Sports are Football and Cricket. I was no more than an eager participant at both games. I have been privileged to be in the company of some of the greats in both sports and even been in the same team if not in the same league. Anecdotes and stories about these sports abound. Sometimes they are funny. Others...well if W.G.Grace was alive to-day, he'd turn in his grave! In the early sixties I used to make up the numbers for Finchley Cricket Club. Because I was unemployable I used to also get invited
to make up numbers at other matches. Finchley ,at that time, had a wonderful captain named Ron Howe. When you played for Ron every match seemed to go to the last ball and have an exciting ending. I believe he played Minor Counties cricket for Hertfordshire.
Anyway on this particular summer's day he had passed my name on to a chap called John Gardner. John Gardner was a rich man who promoted and enjoyed cricket. I believe he actually paid for Worcestershire to go on a pre season foreign tour once. However he ran a cricket team aptly names FORK. This stood for " Friends of the Right Kidney". So on this day I was invited by John to turn out for his
team against Esher Cricket Club during their cricket week.
This was indeed a privilege. So after whitening my boots and pads and pressing my whites I headed off down the A3 to Esher.
By 10.30a.m. I arrived at their most pleasant ground in leafy Surrey. John Gardner was there to meet me. A bigger than life man in all dimensions. In fact someone once confided in me that when he was batting if you hit him in front it was LBW and if you hit him behind it was a wide. I was greeted with thestatement " Wilfred Isaacs has sent two young South African cricketers down to play. Will you open with one- the other will go in No 3. Show them the ropes." I cant be sure but I think these two young South Africans were Mike Procter and Barry Richards.
The bar was already open. Well bar is really a bit of a misnomer. It was a bathtub filled with ice and Lanson Black Label Champagne. To enliven the liver I partook of the bar and by 11 o'clock I was
in the mood to face Trueman, Tyson, Holding and Wesley Hall with no fear. Out I went to bat and scored 24 in the first 5 balls before being caught on the boundary off the sixth ball.
I therefore had a chance to return to the bar. By lunch we were 241-1 wicket. By now I was having a convivial time
with other team members. Names I cant remember.
One was a former captain of Northamptonshire who had turned up with everything but his Zimmer frame. whether it was his health or the Lanson
Black Label he found it difficult to walk and when we fielded stayed
in one place throughout the fielding period.
Another was one of the Cheeseman family. Very wealthy with a Lamborghini
filled with beautiful girls. I think he parked the car with him at second slip. He played for Berkshire I was informed.
There was a thin Thespian with shaking hands. In fact he told me he went to the doctor over this problem. The doctor asked him if he drank and he replied " Not much I keep spilling it." It was obvious he was going to be at first slip.
Then there was Gardner himself. When we fielded the ball would roll under him and he would stamp and ask if had stopped it.
Esher C.C. was famous for its Port after lunch. I remember having a convivial lunch of claret and port with Esher's wicket-keeper- a chap called Marques- who had played Rugby for England. Then to a comfortable deck-chair to sleep off the excellent lunch.
I believe we had declared with some telephone number of a score and
Procter and Richards still batting. Now Fork took to the field.
Procter and Richards had to open the bowling as everyone else was either incapable, drunk, or in the case of Cheeseman still dealing with one of his accompanying ladies. I don't remember the result. However this motley lot in the field would have outdone any
Mac Sennett comedy.
The ex-Northampton captain stood at either silly mid -on or off depending
on which end was bowling. The man with shaking hands was at first slip, John Gardner was at second, third and fourth slip with a bottle of Lanson at gully. Cheeseman seemed to appear to bowl but never to field.
There was a character wearing an Oxford University Blue sweater who didn't seem to have much of a clue. All he seemed to do was polish the ball and give it to the umpire, we later found out that his blue was for marbles.
To cap it one of the Esher batsmen, with the thickest pair of glasses I've ever seen, when asked by the umpire if he wanted to take guard uttered " No thanks
I've played here before."
But the piece de resistance was the player with the wooden leg. Whilst hobbling for a ball his wooden leg got caught in one of those holes from which the pitch is watered. It took two engineers and a doctor over twenty minutes to free him from this position.
After the game Gardner asked me to put my name and details in his address book for future reference. The details on the line above were those of one E.R.Dexter. That was the nearest I ever got to the big
time. I was never invited again.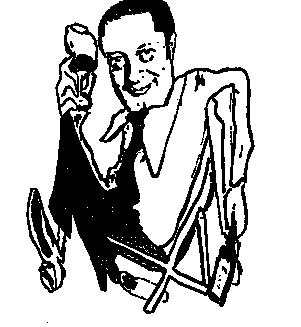 copyriteC Michael Davey